Montreal, QC, November 5th, 2015 – Interfacing Technologies, a leading provider of Business Process Management solutions and proponent of improving businesses' quality and efficiency, gave back to the community with a donation of $115,290 worth of software and services this year to Moisson Montréal, Canada's largest food bank.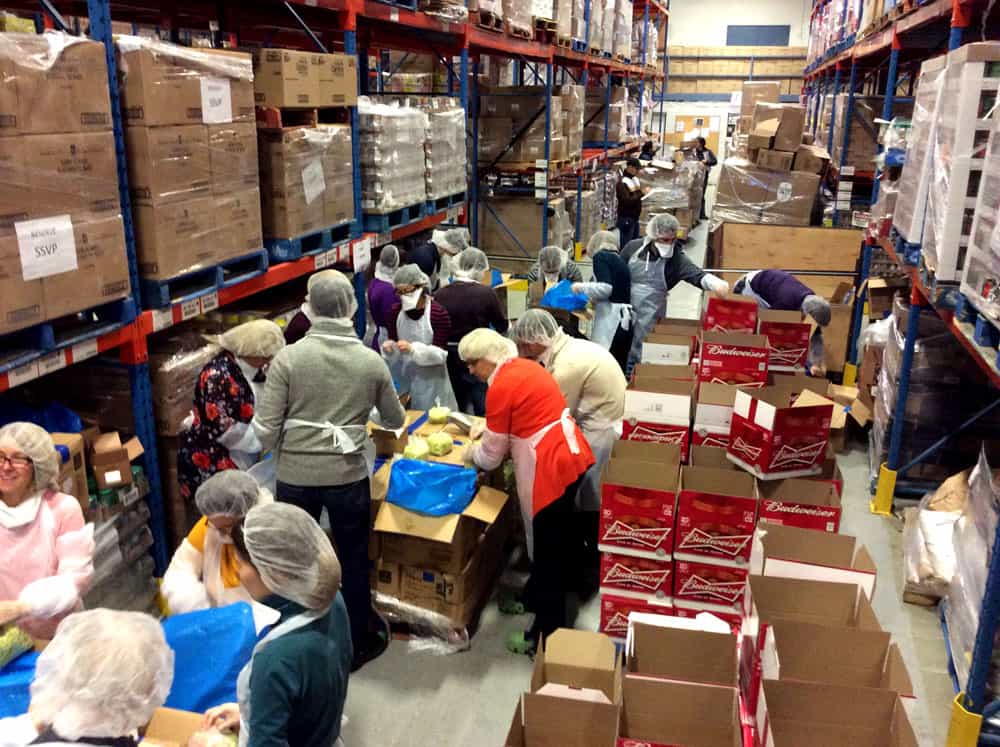 We are looking to expand and diversify our operations, and considering the size of our facilities and multitude of responsibilities, there is no doubt we will benefit from Interfacing's Gartner-recognized business process management software. By managing our entire end-to-end process as well as our governance and compliance requirements using Interfacing's Enterprise Process Center®, we can better streamline distribution and standardize operating procedures to safeguard food security and supply.
Charles Roy
Moisson Montréal, has the task of distributing donated and recovered foods from supermarkets and suppliers to benefit close to 250 community organizations, serving over 140,760 people in need every month, of which 38,345 are children. Thanks to their multiplier effect, a donation of $5 enables them to distribute $90 worth of food and basic products that can last a child for two weeks. Last year, close to 13 000 tons of foodstuffs and products were collected, sorted and distributed in Moisson Montréal's facility. In order to increase the quantity, quality, and diversity of their shipments, Moisson Montréal reached out to Interfacing Technologies for business process analysis solutions to reduce time and cost, with the end goal of maximizing the value brought to the community.
Non-profits face the same challenges as other organizations but with the added obstacles of limited budgets and managing volunteers. Moisson Montréal's operations are extremely complex because of the sheer amount of food they collect, sort, store and distribute on a daily basis. Moreover, this complexity is compounded by the fact that they are working with perishables whereby efficiency and control are critical to ensure proper health and hygiene standards are maintained. We are delighted to partner with Moisson Montréal on their improvement program this year and for many years to come with the ongoing goal of widening the reach of people that can depend on Moisson Montréal for meals.
Scott Armstrong
About Moisson Montréal
A non-profit organization founded in 1984, Moisson Montréal is today the largest food bank in Canada. Through its centre for collecting, sorting and distributing emergency food assistance, the organization allocates nearly 800 tons of food per month to more than 250 accredited community organizations on the Island of Montreal. In turn, these organizations provide food assistance to 140,000 people, including more than 40,000 children aged between 0 and 5. Moisson Montréal receives funding and supplies mainly through donations. Its operations require the collaboration of nearly 8,000 volunteers each year who redistribute 13 million kilos of groceries, worth about $61 million. In 2015, Moisson Montréal also won the Prix Novæ de l'entreprise citoyenne in the "Approvisionnement" (Procurement) category for its supermarket collection program. For additional information, visit www.moissonmontreal.org
About Interfacing Technologies Corporation
With over two decades focused on the Business Process Management (BPM) marketplace, Interfacing is recognized as not only a pioneer, but also a leader today. Interfacing provides quality management technological solutions to document, analyze, improve, and govern process, risk and performance data.   With over fifty-thousand users of their process based tools to-date, their solutions have served both large & small organizations across all industries globally.  As a front runner, Interfacing is committed to continuously innovate and redefine the future of process & quality based solutions.   For additional information, visit www.interfacing.com
To request complementary information or an interview, please contact:
Scott Armstrong – Managing Partner, Interfacing Technologies Corporation
T. 514 737 7333 x2040 | scott.armstrong@interfacing.com
Alexandra Carpentier – Communications and media relations, Moisson Montreal
T. 514-344-4494, ext. 239 | acarpentier@moissonmontreal.org
Download a Free Trial of the EPC
Map, model, and execute your business processes with Interfacing's Enterprise Process Center® (EPC) to achieve the process visibility necessary to optimize your activities. Positioned amongst Leaders by Gartner in its latest Enterprise Business Process Analysis (EBPA) MarketGuide.