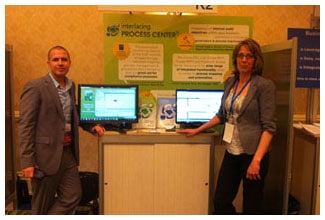 Interfacing is pleased to announce their sponsorship at the 2012 Gartner Business Process Management Summit. The Summit, held April 27th through the 29th in Baltimore, Maryland, is the largest, most comprehensive BPM conference in the world, offering objective advice, actionable insights, hands-on problem solving and unlimited peer networking.
Hot topics at this year's summit included a roadmap for the future of Business Process Management, as analysts explored the fast moving momentum of BPM, and the evolving and growing amount of knowledge networking and automated intelligence applied to processes required to keep pace. The current trend of processes flexing around the changing nature of work is the opposite of past processes where work was dictated by nature and structure of processes, allowing process management as whole to change as organizations move to intelligent business operations.
At the event, Interfacing showcased and demonstrated its award winning BPM software, the Enterprise Process Center, and allowed visitors the opportunity to register at http://interfacing.com/gartner-contest to download the free BPMN Modeler and enter a draw to win a complimentary iPad 2.
About Interfacing
Interfacing Technologies Corporation is a pure-play Business Process Management software and services provider with over twenty years in the space. Interfacing has clients globally across all industries and is well recognized for their personalized customer service and 24x7 support via their international office locations. Interfacing's BPM solutions are intuitively designed for business users and cover the full spectrum of process improvement and governance initiatives. Multiple groups within the organization can collaborate and conduct diversified programs in parallel for business architecture, lifecycle management, automation, risk management and compliance, all within the same centralized process repository. Interfacing delivers the knowledge and puts the tools in the clients' hands to continuously improve operational performance and align their business objectives and GRC strategies with daily operations.
Download a Free Trial of the EPC
Map, model, and execute your business processes with Interfacing's Enterprise Process Center® (EPC) to achieve the process visibility necessary to optimize your activities. Positioned amongst Leaders by Gartner in its latest Enterprise Business Process Analysis (EBPA) MarketGuide.