What is Business Architecture?
Business Architecture is one of the primary domains within Enterprise Architecture. Business Architecture provides the anchor point to which many of the remaining Enterprise Architecture domains are linked and aligned.
The Business Architecture consists of components, which document the Organization's:
Business Motivation
To define the organization's Vision, Goals, Objectives, Mission, Strategies, Tactics and Plans.
Products and Services
To define the details of the organization's products and services offered to customers.
Business Capabilities and Processes
To document the details of the organization's Capabilities and Processes.
Organization
To define the organization's Structure, Roles and Locations.
Stakeholders
To define the organization's Partners, Industry bodies, Standards bodies, Suppliers, Government Regulators and Customers.
Business Information
To define the high-level business information objects required to deliver the organization's products and services via its business processes, e.g. customer information, product information, customer sales.
Benefits of Business Architecture
Strategic Alignment
Provides the anchor point off which to provide holistic overview of your application and technology roadmap through a strategic lens.
Capability and Process Improvement
EA highlights the need for improving capabilities and processes. Lean redesign of chains of activities, complex services and products require global and detailed insights. As processes improve fewer mistakes are made, leading to more efficient and effective resource. Customers and clients will immediately experience the improvement.
Managing Complexity
Helps businesses identify, analyze and articulate opportunities, challenges and risks.
Enhanced Communication
Business Architecture provides the foundation for effective communication of how the organization works, including overviews of relationships and inter-dependencies, which in turn reduces miscommunication and misunderstandings. This provides more confidence in decision making.
The blueprints provided by the Business Architecture illustrate the fundamental structure of an organization, including details of the capabilities and process defined in diagrams and documents. Business Process Management tools, such as Interfacing's Enterprise Process Center, are able to capture the diagrams and supporting details to document the information required to develop the key artifacts that comprise a Business Architecture.
Business Architecture is the anchor to bridge between enterprise strategies and business functionality. Strategy drives changes to the Business Architecture and other Enterprise Architecture domains. Changes to the Business Architecture and other Enterprise Architecture domains then translates these Strategies into Execution.
It is a continuous cycle resulting in continuous improvement. Business Architecture assures consistent application design across all delivery projections, thus enabling quick smooth decision making when necessary. It binds together different sectors, viewpoints, underlying principles, and systems, resulting in a repository of information that will improve decision making regarding business and technological changes. This practice aims to help organizations understand the structure and the way they work.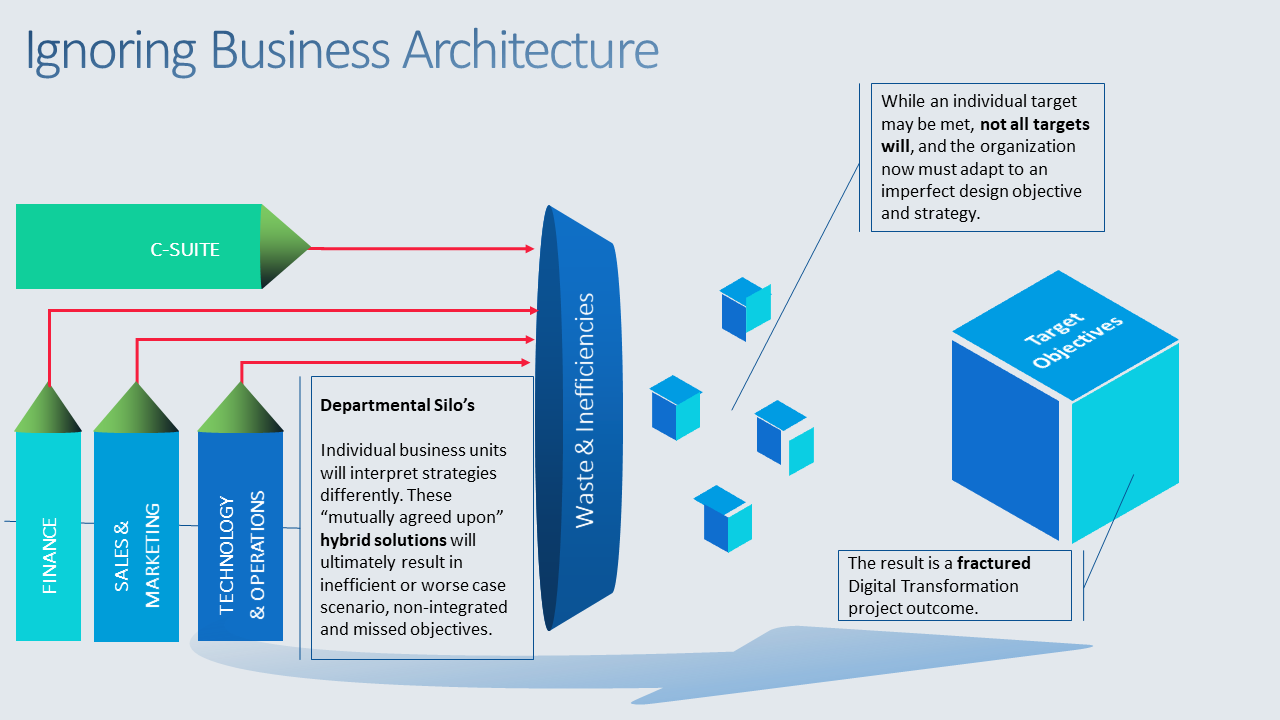 The actual deliverables will vary depending on the scope of EA engagement agreed between you and Interfacing. However, typical deliverables include:
Business Motivation models
Business Capability models
Business Process Architecture framework and high-level models
Organization Structure models
Business Information Object models
The aim of Business Architecture is to present the organizations in terms of their business entities, properties and relationships between the external environment and themselves. Professionals at Interfacing can help you and your organization develop and use the right Business Architecture.
Interfacing can also explain how you can adopt our Enterprise Process Center to document and manage your Business Architecture. With the adoption of our Enterprise Process Center, your organization will experience an increase in agility and flexibility, as well as delivering fast responsiveness to new business challenges and demands. Enterprise Process Center also allows your organization to with cost-effective, long term planning capabilities.
If your organization does not currently have Business Architecture practice, Interfacing can help your organization design and implement the right strategy and design for your organization's architecture practice. Alternatively, your organization may be interested in Interfacing's managed Enterprise Architecture or Business Architecture services.
Contact us more for information.
Discover how we helped other companies succeed