KMWorld Lists Interfacing among Trend-Setting Products of 2018
Montreal, Quebec, September 19, 2018
Interfacing Technologies is proud to announce that its leading product – the Enterprise Process Center® (EPC) has been included in KMWorld's 2018 list of Trend-Setting Products.
KMWorld Trend-Setting Products of 2018 showcase not only emergent software categories such as artificial intelligence (AI), machine learning, cognitive computing and the Internet of Things (IoT), but also more traditional and well-established categories like enterprise content management, collaboration, text analytics, compliance and customer service.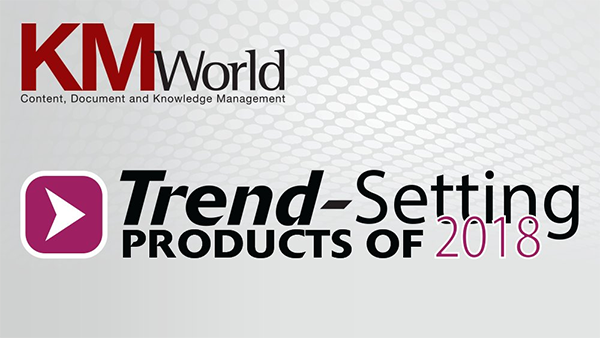 This recognition of KMWorld reaffirms Interfacing's leadership and expertise in business knowledge management domain. Interfacing understands the importance of fostering a digital and knowledge-centric organization, where breakdown of information silos, continuous improvement and effective knowledge management is the new mantra.
"In designating products to KMWorld's 2018 list of Trend-Setting Products, we looked for solutions that are inventive as well as utilitarian, that break new ground, and that help organizations achieve their knowledge management goals and the digital transformation they need to thrive," said Tom Hogan, group publisher at KMWorld.  "The offerings on our list result from innovation, imagination, and evolution. They reflect the ingenuity of the developers and the diversity of invention."
Interfacing's EPC supports organizations in creating a digital workplace through harnessing the latest digital tools. By delivering on demand business process knowledge via a diverse collection of devices and channels, the EPC facilitates cross-functional collaboration, promotes documentation, sharing, and retention of structured and uniform knowledge.
"We are thrilled to be listed again this year among KMWorld's Trend Setting Products," says Scott Armstrong, Managing Partner at Interfacing. "Organizational gaps result in loss of knowledge, expertise and lessons learned which is detrimental to ongoing continuous improvement.  The EPC is a revolutionary tool that goes beyond processes to better manage all organizational information, and provide a platform to facilitate a culture of knowledge sharing throughout the organization. "
With EPC's centralized repository as a business knowledge depot, organizations can effectively search and find all documents, processes, procedures, laws, controls, systems, objectives and performance metrics within a single source. As the EPC structures information based on users' responsibilities, objectives, tasks and rules that they relate to, the information displayed is therefore relevant to employees in order to understand what they need to do, when, how, and why. The EPC bakes knowledge management into the corporate DNA, improving productivity and quality while ensuring risks are mitigated and compliance standards are enforced.
About Interfacing
Interfacing Technologies is a global leader in business transformation, empowering organizations to efficiently govern business complexity through process-based quality, performance and compliance management solutions. Interfacing's solutions are intuitively designed for business users; facilitating multiple organizational programs within a single platform and covering the full spectrum of quality, improvement and governance initiatives.
About KMWorld
KMWorld is the leading publisher, conference organizer, and information provider serving the knowledge management, content management, and document management markets. It informs more than 11,000 print subscribers about the components and processes – and related success stories – that together offer solutions for improving business performance.