Interfacing Listed Among the 'Silicon 70' by The Silicon Review
Montreal, Quebec, September 18, 2018
Interfacing is honored to announce that The Silicon Review Magazine has selected it as one of the 'Silicon 70', where the most representative 70 enterprises are listed based on their business strategies, service/product innovation, financial soundness, ability to attract key demographics, and the ability to conduct global business.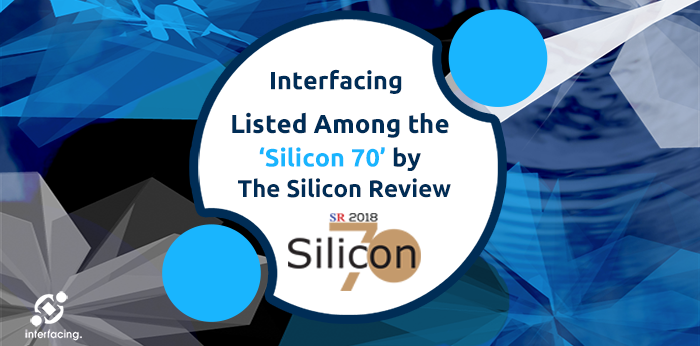 Interfacing is widely recognized as a global leader in digital business transformation with its flagship product – the Enterprise Process Center® (EPC) – a scalable cloud-based, mobile responsive and extremely intuitive solution for process transformation, digitization, governance, quality management and continuous improvement.
"The Silicon 70 edition identifies companies which are revolutionizing the technology and business marketplace, and winning a spot on this list indicates the company has distinguished itself being highly adaptive, innovative, customer-centered, and having the ability to grow."
The EPC platform is much more than just a BPM or GRC tool; it is a common platform for an organization to better manage and digitize its processes, documents,
risks & controls
, rules, roles & responsibilities, objectives, performance targets, as well as systems and
master data
. It promotes knowledge sharing and consolidation and creates exponential value for an organization by bringing many different stakeholders digitally together to solve a common challenge or brainstorm on new ideas.
"We are delighted to be listed among 'Silicon 70' by The Silicon Review Magazine. Our award-winning EPC suite helps companies streamline operations, increase productivity, enforce governance, and ensure compliance. Much more than just process modeling, the EPC allows firms to manage, automate, and monitor business activities and controls."
Besides the constant evolution of the EPC, Interfacing has also been creating an out-of-box best practice application library using its own low-code Rapid Application Development (RAD) toolbox. The big advantage of these "ready to use" apps lies in the greatly shortened deployment timeline, while still providing the RAD with flexibility to quickly adapt to industry or company-specific needs. By integrating these apps with the knowledge repository, clients now can gain exponential value from automating processes.
Solid industry expertise and market knowledge, along with passion and innovation are the fundamentals of Interfacing's success and customer delight.  Listed this year as the 3rd fastest growing Canadian IT company and among the top 150 largest, Interfacing is confident to be in the top 20 within the next couple of years through both organic and acquisition growth. Interfacing is also developing its footprint rapidly overseas through international marketing investment, product language localization, global strategic partnerships and new regional offices. Interfacing will continue refining and expanding its solution to provide customers with a tool to best manage their ever-evolving market challenges.
About Interfacing
Interfacing Technologies is a global leader in business transformation, empowering organizations to efficiently govern business complexity through process-based quality, performance and compliance management solutions. Interfacing's solutions are intuitively designed for business users; facilitating multiple organizational programs within a single platform and covering the full spectrum of quality, improvement and governance initiatives.
About Silicon Review
The Silicon Review is the world's most trusted online and print community for business & technology professionals. It is the pre-eminent platform that shares innovative enterprise solutions developed by established solution providers and upcoming hot enterprises emphasizing as a neutral source for decision makers. The Silicon Review acts as an excellent medium, allowing top level executives to share their contemporary thoughts and ideas in regards to products, technologies and technology trends.