Digital Transformation & The Importance of Collaboration
<center>January 4, 2018</center>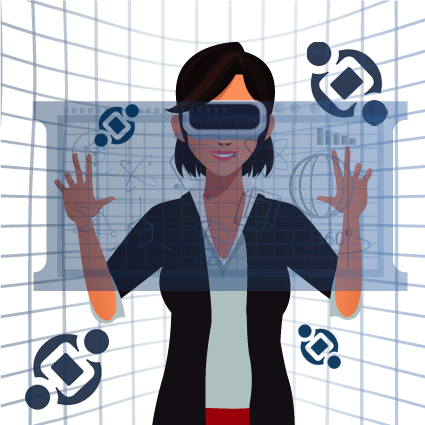 We've been talking about Digital Transformation for somewhat 15 years now, since then many projects to digitize organizations have seen the day but how many of them actually succeed? Forbes reported that 84% of companies fail at digital transformation due to different pitfalls, which brings us to approximately 1 out of 8 companies that actually got it right.
One of the main recognized pain points is that people often undergo digital transformation without fully comprehending the why and the how.
Altimeter for example reported that only a quarter surveyed had a "clear understanding of new and under-performing digital touch-points", thus the importance of on-boarding your team… but not only! Digital transformation is defined as change associated with the application of digital technology in all aspects of human society. This implies that the change is operated on different levels of a business: people, processes and tools.
When it comes to tools, there's a plethora out there that will help you support digital transformation but how many of them actually meet objectives?
"A lot less than you'd expect." reports Scott Armstrong, Managing Partner at Interfacing either because the decision-maker left the company or because the tool wasn't useful or fully explained to begin with. One could argue that testing, trying, and taking the chance of failing is inherent to change but this kind of thinking isn't viable in the long run. The secret of most successful companies at implementing new tools is user-adoption.
This brings us to the people aspect, with millennials slowly replacing baby boomers within the workforce; it has become increasingly necessary for businesses to adapt to retain talent, to work more horizontally rather than vertically.
Finding ways to empower every employee, to make information readily available and transparent has become a major concern. Studies have shown that companies that promote good communication are 50% more likely to have lower levels of turnover. Additionally, businesses with high levels of engagement reported 22% higher productivity. (Source: clearcompany.com)
This is why at Interfacing, our enterprise software caters no longer solely to buyers but to the end-user.
Interfacing's process management software (EPC) addresses all the challenges that business are facing in the digital transformation journey not only by providing the correct tools to optimize the transition but by offering webinars and detailed training.
Those sessions allow our customers to quickly learn the key functionalities of our software, bridge long-standing gaps between departments and simplify processes for both internal and external customers. The ease and speed with which they can now design, view and approve new business processes helps them to address the essence of digital transformation.
Our enhanced collaboration module is a game changer in the way teams interact and communicate when suggesting improvements, initiating discussions or reporting incidents. Thanks to our customizable boards, draft revision tracking, social interactions and real time notifications, teams can now get actively involved in future improvements.
Change is hard, we make it easy
                      Here's an example illustrating how EPC's collaborative modules can help you in your daily tasks:
John, HR coordinator based in Chicago, heads to the "My Favorites" section on his EPC 10 dashboard and accesses the latest version of the employee onboarding checklist. He reviews the document and adds a task to the checklist which sends a live notification to Anne – his manager, head of the HR department.
Anne is satisfied with the final version of the document so she approves it and assigns an IR implementer to generate the checklist into Spanish so that Pablo, the company's HR assistant in Spain can refer to it for an upcoming recruitment.
Pablo can then easily access this document or any other relevant task or process previously approved by Anne and generated into Spanish, depending on assigned roles and permissions.
Without Business Process Management adoption, today's businesses are unlikely to be able to keep up with the digital transformation game as it grows and changes the business landscape forever. Agility, transparency, inclusiveness and the ability to change direction quickly with minimal disruption, is the only way that businesses will be able to compete in this new world.
EPC Collaboration & Governance