KMWorld Magazine's ''100 Companies That Matter in Knowledge Management''
Camden, ME | Jun 6, 2019 
Interfacing Technologies is proud to announce that it has, just like last year, been listed in KMWorld Magazine's ''100 Companies That Matter in Knowledge Management''. This is an amazing achievement, because the companies being enlisted in KM World are considered highly innovative. The list is compiled by a list of experts in the field and focuses on the most innovative and customer-driven companies.
"The organizations named this year within our list of 100 Companies That Matter in Knowledge Management have captured and sustained our interest through their functionality, success with clients and innovation," says KMWorld Editor Sandra Haimila. "When we look at the technologies they offer, we are awed by the progress, excited by what the future will bring and confident they will enrich our lives. The companies we have chosen for our 2018 list have proven their business value to customers. We are impressed!"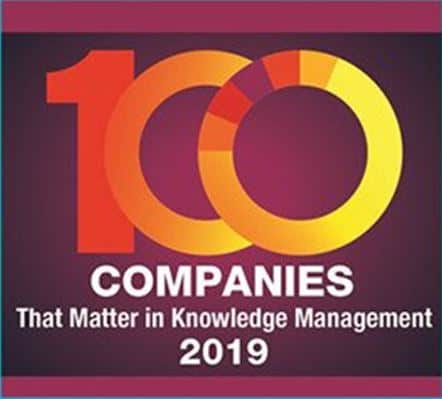 "We are honored to be listed once again on this year's 100 Companies that Matter in Knowledge Management," says Scott Armstrong, Managing Partner at Interfacing, "Our Digital Business Transformation solutions are truly instrumental to the field of knowledge management and we take a lot of pride in developing more solutions that can help bring business value to quality managers and analysts. We are happy to receive awards, but what really matters to us is that our best-in-class solutions help support our client with the full spectrum of quality, governance, improvement, and compliance initiatives."
Interfacing has a wide-range of solutions that seek to bring the right methodology and measured approach to digital transformation. Our award-winning
Business Process Management Software 
is designed for business users, especially for the management of quality, knowledge, documents, and processes. Through impact analyses, approval workflow, governance, embedded change management and 360-degree visibility, our solutions cover all phases of an organizations' digitization journey, from blueprinting to automation through to rollout and change management.
About KM World
KM World is the leading publisher, conference organizer, and information provider serving the knowledge management, content management, and document management markets. Informing more than 11,000 print subscribers about the components and processes — and related success stories — that together offer solutions for improving business performance.
About Interfacing
Interfacing Technologies is a global leader in business transformation, empowering organizations to efficiently govern business complexity through process-based quality, performance and compliance management solutions. Interfacing's solutions are intuitively designed for business users; facilitating multiple organizational programs within a single platform and covering the full spectrum of quality, improvement and governance initiatives.
EPC Knowledge Management Software